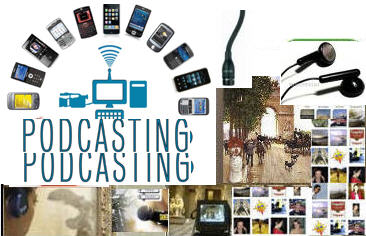 Le podcasting ou baladodiffusion est un moyen de diffusion de fichiers audio sur le web, auxquels peuvent s´abonner les internautes, via un flux de syndication (RSS). Les termes audioblog, radioblog ou podcast représentent différentes variantes intégrant des fichiers son, du streaming ou un fil RSS dans un weblog. Source: Dossier Weblogs - Médias - Podcasting
L'utilisation de podcasts favorise l'acquisition de compétences fondamentales en langues étrangères, telles que la prononciation et la compréhension orale. Plusieurs études soulignent l'importance de la baladodiffusion pour l'apprentissage d' une langue étrangère: On peut ainsi améliorer la prononciation des élèves avec des activités et exercices de production orale, ainsi qu' intégrer la correction de la prononciation, l'évaluation des enregistrements audio ou l'application de tâches collaboratives ou de projets de télécollaboration entre apprenants (Abdous,2009; Ducate & Lomicka, 2009; Lord, 2008; Tomé, 2011).
Podcasting can provide access to a large amount of authentic input, as well as to teaching materials of varying quality that have different approaches to language learning behind them (depending on the content provider): from behaviourist to cognitive constructivist and communicative approaches, situated learning, and lifelong learning. The impact of podcasting on learning in general and language learning in particular could be similar to the impact of the arrival of the Internet in terms of giving access to language learning materials (Rosell-Aguilar, 2007)
COMMENT CRÉER OU ÉCOUTER UN PODCAST ?
PODCASTING ET APPRENTISSAGE DES LANGUES
ANNUAIRES – SITES – PODCASTS – ÉDUCATION
APPLICATIONS et UTILISATION du PODCASTING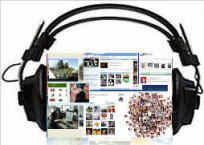 OUTILS PODCASTING / BALADODIFFUSION

Podcasts et baladodiffusion en Education – Langues
HISTORIQUE: PREMIERS PODCASTS POUR L'APPRENTISSAGE DES LANGUES
http://flecampus.ning.com/profiles/blogs/podcasts-langues-historique
A number of researchers have claimed that podcasts can be an effective language-learning tool. Since most students are now coming to class fully equipped with digital devices, podcasting can create a ubiquitous learning opportunity. As long as these students have any sort of MP3 player, they can access classroom
homework or extra teacher-recommended materials while "riding the bus or subway, walking across campus or through a shopping mall".
D'AUTRES PISTES, RÉFÉRENCES ET RESSOURCES
dans les COMMENTAIRES de ce message...